The anime ended after 103 episodes, but the manga continues! *teary eyes* I've really come to love this series. I love the characters (except the Levoull-somthingorother dude that looks like Hitler) and the comedy and the action...
So yeah, latest chapter has another level 4... I freaking hate those things. They're ugly potbellied and mono-breasted doll-looking things and I find them both creepy and irritating. And they attack nuns and children (shame!). Not to worry, though. Allen and Kanda have some ugly ass to kick the shit out of. And they do. :D
In other news... I think I'm going to explode waiting for the next episode of Kuroshitsuji to come out... Shinsen takes a bit longer than other subbers, but their quality is well worth the wait... even though I'm really REALLY
REALLY
excited and want to see some mafia thugs die by having tableware thrown at them (in Hi-Def!).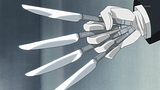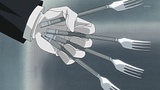 Notice the dude on the right look over as the other two dudes fall over bleeding with silverware sticking out of them... >__<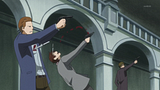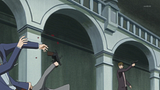 This is gonna be sweet...