10 is subbed by
Naked Xlation
. This episode is way out there. I don't know what they're doing. No, what I'm thinking is they'd already had the anime planned out before the Kohane arc reached its conclusion in the manga... In any case, this episode departs a great deal from the original story. Basically, the media situation becomes unbearable and Watanuki (accompanied by Doumeki) fight through a mob of reporters to get to Kohane's house. They find her mother dousing her in cold water to 'purify' her because she was 'tainted' by Watanuki and his food.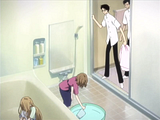 He and Doumeki intervene and decide to take Kohane away from her mother. If her mother were even slightly less self-absorbed or obsessive, she would have objected to two strange teenage boys taking off with her daughter, but hey, where's the fun in that? Watanuki takes Kohane to Yuuko's shop where she spends the night. She takes a bath with Maru, Moro, and Mokona and eats dinner with everyone.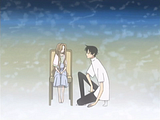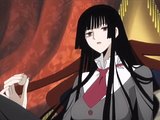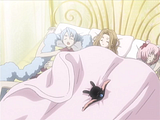 Kohane seems significantly happier the next day when she decides that she should return home. Watanuki asks why, and she says that her mother is worried about her. Watanuki walks her home and when they part, he gives her a good luck balloon that he got from the Yumekai. When Kohane gets home, she tells her mother that they can stop this, that they can end it here, and as she says that, the balloon pops.
Later, Kohane is at the house that caused the controversey, where she saw two spirits and the other mediums only saw one. Kohane apologizes to the murdered woman's spirit, who then departs. After that, reporters are mobbing her house again after the woman's remains are discovered and Kohane is proven to be right about the two spirits.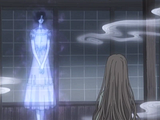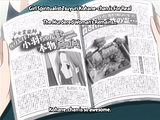 Yuuko and Watanuki hear an announcement made by Kohane's mother to the press that Kohane is retiring from spiritualist activities and do not wish to be bothered by reporters or television shows. Some time later, Watanuki runs into Kohane at Doumeki's temple.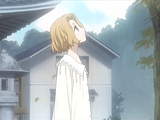 He asks how she's been and she says 'good'. They talk about the woman in the tree and the murdered woman at the house and then Kohane's mother arrives. Kohane starts to walk away and Watanuki stops her to ask what wish she made on the balloon. She said she wished for her mother to stop suffering and be able to relax. Kohane then walks away with her mother who says nothing but puts her hand on Kohane's shoulder.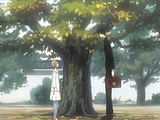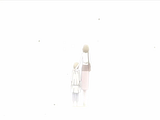 So it concludes, just like that... And as for next week, it seems that Himawari's secret will be revealed.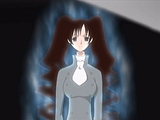 Isn't that kind of... sudden? Aren't there supposed to be 26 episodes? What the hell are they going to do with the rest of them? They've just resolved Kohane's story, and I imagine the next two episodes or so will deal with Himawari, but then what? They've removed all Tsubasa references, so what the hell else is left to tell?!
Argh.