I didn't realize that two weeks without Code Geass was such a big deal... until I finally got episode 9 from
Eclipse
and I was like "How did I live without this show?" People falling in compromising positions like so...
and CC wants to know where the hell her Tabasco sauce is!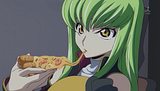 So Zero's dilemma is that the eunuchs of the Chinese Federation up and decided to marry Empress Tianzi to Brittania's first prince, thus submitting to Brittania's will in exchange for status. Literally everyone shits a kitten. Despite all the tension, surprise appearances, reunions, and pedosmiles, Schneizel and Zero still find time for a game of chess, although Nina interrupts them...
I thought Nina was recovering buuuuut... it seems she's gone off the deep end for good... She chewed Milly's head off when she was just offering to listen if Nina ever wanted to talk and then she goes after Zero with a knife screaming like a smushed cat...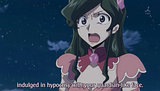 And what the hell's up with the first prince of Brittania? He's a pedophile! The pedosmile proves it!! Ick...
But wait! Li Xing-ke saves the day! It's so adorable... Tianzi's holding up her pinky and calling Xing-ke to come save her because of a pinky promise they made... (Why doesn't Xing-ke strike ne as a pedophile when the other guy did? It's the smile, I tell you... and I think I have yet to see Xing-ke smile).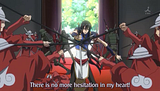 Then Zero shows up to play the bad guy role and puts a gun to Tianzi's head... followed by maniacal laughter... What happened to the 'ally of justice' routine? Just as well... I love bad guys.
Last but not least... Jeremiah? Why isn't he dead? I knew he was in the opening song, but still... What does it take to kill that guy? (not only that, his little half-mask thing looks like a freakin butterfly... an ORANGE butterfly...) AND I HATE HIS FACE WITH
KEN NARITA
'S VOICE! It spoils my fangirly senses, it does...
Next episode will be "When the Shenhu Shines" and there will be battles... Yay battles!